CLIENT: Joyso Golden Retrievers
Joyso Golden Retrievers is a professional breeder of Golden Retriever dogs. A love for the breed started 30 years ago and this led to a commitment to ensure the integrity of the breed through careful pedigree research prior to mating. The goal is to find great combinations that constantly improve on the quality of the breed and ensure the renowned temperament of these fine dogs. Thousands of kilometers are covered to source suitable mates and ensure these goals are met. The health and temperament are the most important targets. Colour, show worthiness, etc. are secondary to this breeder. High quality, calm and healthy puppies are the goal.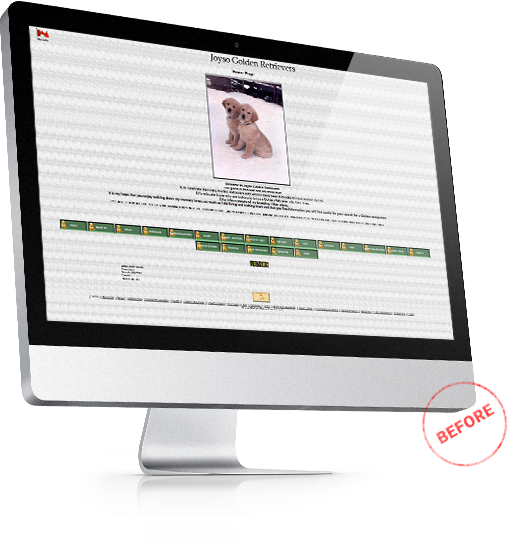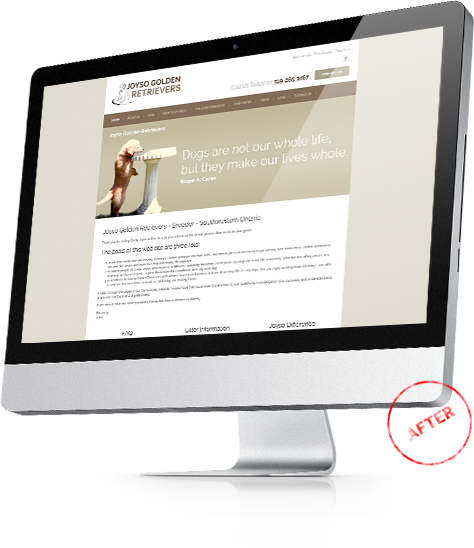 CHALLENGE

ACTION TAKEN

Outdated website design.
Website did not have a mobile-friendly design.
Limited knowledge of current internet marketing trends and strategies.
Design and layout of content was not easily accessible to users.
Limited inquiries resulted in lower demand, making it difficult to achieve market value for new puppies.

New Bloomtools website with redesigned menu/page structure
Focused keyword strategy to achieve improved SEO results
Improved navigation and user-experience provided a more satisfying experience for website visitors.
Branded Facebook page was created to compliment a personal page, as well as a closed group for growing
families of new puppy owners
Established an automatic response to all inquiries, so that potential customers understood the timelines surrounding the breeding and adoption process.

RESULT

Positive feedback for the new website was almost immediate.
Within the first month, traffic increase almost 30% on the website.
Traffic from Google searches increased 67.92%.
Joyso was ranking for over 150 keywords related to golden retriever breeding.
The increase in traffic and inquiries enabled new puppy sale price to come in line with marketing pricing
Simple to use interface makes it easy to update information to keep website visitors informed.
The end result is a professional looking website that clearly communicates to the desired market the goals of Joyso, as a breeder and lover of the Golden Retriever pedigree. With better use of keywords and the integration of Facebook, traffic has increased and so now has the pool of prospective puppy owners. This brings the Joyso litters in line with market values and will enable the continued growth of this family.